Mission
The Department of Wellness and Recreation strives to foster a lifestyle of responsible choices supporting the mind, the body, and the spirit in educational, wellness, and recreational programs through services and facilities for the University community.
Vision
To help people by providing innovative wellness and recreational experiences.
---
Student Well-Being Resources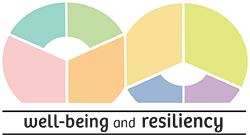 College can be challenging. For many students, it is the first time they are granted this much independence. Juggling classes, study time, and activities often leave little time for self-care, ultimately affecting well-being.
To help students understand the eight dimensions of well-being and access the many programs and services offered at the University of Miami, the Division of Student Affairs Healthy 'Cane Network assembled a collection of on-campus, off-campus, and online well-being resources at miami.edu/well-being. By taking advantage of all we have to offer, students will be equipped with the necessary resiliency, coping, and conflict management skills to address personal and interpersonal challenges in life.