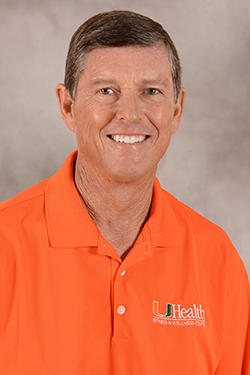 Norman C. Parsons, Jr. served the University of Miami as the Director of the Department of Wellness and Recreation from 1972 until his retirement in 2014.
Through his vision for the Herbert Wellness Center, Norm ensured that students, staff, faculty, and alumni had access to a variety of wellness educational programming, thereby serving to instill them with the tools to strive toward a lifetime of wellness.
Norm also coached the men's and women's varsity golf teams in the 1970's and 1980's, leading the Lady Canes to two national championships.
Norm was inducted into the University of Miami Sports Hall of Fame in 2013 and received the Iron Arrow Bowman Foster Ashe Honor in 2010, the James W. McLamore Outstanding Service Award in 2009, the Women's Commission May Brunson Award in 2008, and the University of Miami Alumni Association "Inside Out Award" in 1996.
Most recently, in 2013, he was the inaugural recipient of the Norman C. Parsons, Jr. Lifetime Achievement Award established by Student Government.